Soil Injection
Elmsavers has phased out the use of soil injection treatments in favour of more eco-friendly solutions.
About Soil Injection
Soil injection involves injecting an insecticidal solution around the root zone of the tree, and is carried out from May until October potentially to achieve two years protection targeted at the canopy.
The treatment may take up to ten weeks before complete uptake occurs.
While treatment now involves injecting with Meridian® (Thiamethoxam), a newer and environmentally safer neonicotinyl, Elmsavers prefers to adopt the more eco-friendly solutions such as tree injection and canopy spraying for the treatment of elm leaf beetle.
Read more about soil injection – and our comparison to tree injection.

Why does Elmsavers prefer tree injection to soil injection?
Tree injection is designed to protect against damage & defoliation for two or more years, and is ideal for all situations, whereas overly wet or dry conditions and water restrictions will significantly limit the success of soil injection.
Furthermore, trunk-injected trees have a higher level of active ingredient available in the canopy, ensuring a superior level of control compared to soil injection, while chemistries are highly stable within the tree as compared to soil injection.
Soil injection failure can result in stressed trees that have severe larval damage. The soil-injected insecticides may damage the soil, micro flora and also kill earthworms at levels as low as 4ppm.
Tree injection will not kill earthworms and other beneficial soil invertebrates, nor will it affect soil biology by harming beneficial soil fungi essential for nutrient uptake.
Tree injection also will not contaminate pasture and affect livestock residues; the maximum Imidacloprid residue limit is 1ppm for pasture and fodder.
For further information, please refer to the Australian Quarantine and Inspection Service (AQIS) document: "Pesticide risk profile for the grazing of pasture and/or cutting of hay and feeding to cattle and sheep." – February 2010 (page 33)
Soil injection is damaging to the environment. Find out more here.
Elm Mite Infestation "Mite Flare"
Mite infestation or "Mite Flare" is caused by using older insecticides such as imidacloprid i.e. SilvaShield®, Confidor®. It is a problem with both soil and tree injection. Mites are not insects and this insecticide is well known to cause an increase in mite fertility (fecundity). Premature defoliation is a typical symptom, this can occur as early as late December; leaf undersides appear spotted with mite excrement, upper leaf side has a yellow spotted appearance due to chloroplast decline. Please let us know if you have this problem as we can treat it with newer chemistries.


These Echuca Street trees were not treated by us. Tree injected on September 3rd, 2009 by a competitor using SilvaShield® within label rates. Campaspe Shire council has now engaged Elmsavers to rectify this problem. Leaf closeup, mite activity throughout.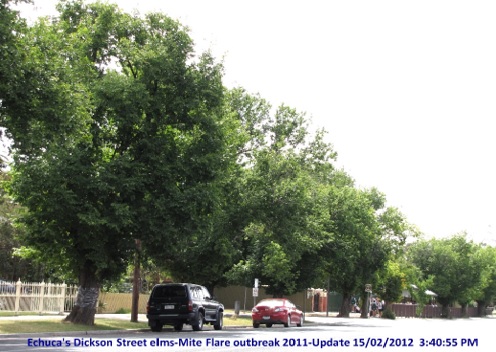 Treated by Elmsavers on June 22nd, 2011 with newer chemistry lines that control both elm leaf beetle/fruit tree borer and mites. No mite or beetle/borer activity was detected; all shire trees are covered by our guarantee. Campaspe shire and Elmsavers now have a street tree pest and disease program in place for all tree species.


Mansfield Court House, treated for elm leaf beetle by soil injection. Even on a bright and sunny day the foliage has a dull and dirty appearance. Compare the difference to a tree that is not infested, see below. (Kyabram Victoria)